Find the Perfect Chemical Supplier for your Business in 5 simple steps
Are you a Pharma, chemical or agro professional looking for a chemical supplier? Not sure how to find a chemical supplier you can partner with?
Finding the ideal partner for your business is not easy. Partnerships like this are usually long-term. Whether you are a new business owner looking for a chemical supplier for the first time, or an established brand looking to switch; you need to be extra careful about who you pick.
With everyone claiming to be the best in the business, how do you find the perfect business partner? One that will contribute to your business growth. And help you keep up with the increasing demand.
To make it simpler for you, we've put together a list of questions you should ask.
Here are 5 questions you should ask your chemical supplier for signing a partnership deal.
1. How long have they been in business?
This is the most important question you should ask. Followed by some information about the kind of clients they've worked with.
You'll need chemical supplies for R&D as well as production. When the need arises, you'll obviously want someone who can deliver it quickly and efficiently. To ensure that, you need someone who has been in the business long enough, has managed projects like yours and knows how to do their job.
2. Where are they based?
Did you know that each country has different laws for chemical transportation?
There are certain times of the day or certain routes through which you cannot transport chemicals. Even the vehicle used to transport chemicals has to meet some safety standards.
To avoid trouble, pick a chemical supplier close to your location. You may have to look a little harder and longer, but it'll certainly be worth the effort.
3. Are they environment friendly?
The Government and even end users are becoming increasingly aware of how products they use are being manufactured. To save our planet and its people, consumers like to associate themselves with environment friendly brands.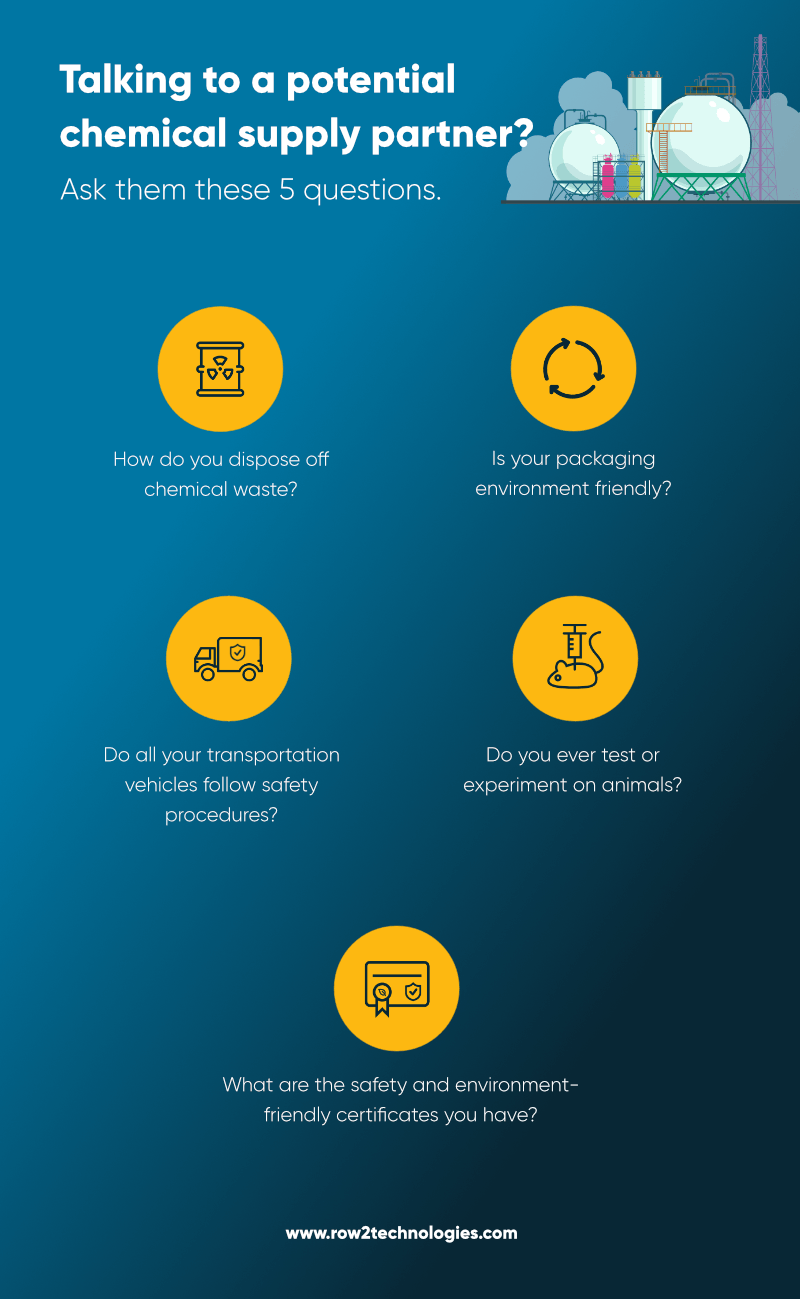 As someone in the chemical, agro or pharmaceuticals industry, you need to be extra careful about keeping the environment safe.
4. Are they affordable?
Partnering with a chemical supplier should, above all, be profitable for you. Just because they meet all the other criteria or are the best in business doesn't mean it will be a profitable deal for you.
While it shouldn't be the ultimate deciding factor, pricing does play a very important role. It's okay to budge a little. But before you even start your search for the perfect chemical supplier, decide your budget and stick to it.
5. Do you have the same business values?
Like we said, partnerships like this are usually long-term. It's not convenient to partner with a new chemical supplier every year. So, when deciding who you want to work with, pick someone whose business values match yours.
To judge this, list down what are the most important things for you in a business partnership. Then analyse if you both stand by the same things.
Is providing the best quality products to your customer the #1 priority for you? Do you be-lieve taking things slow is better than rushing into something and producing a mediocre product?
Whatever you believe in, make sure your chemical supply partner shares similar values.
A clash of opinions on a major issue can later pose serious problems and financial losses. It'll also strain your relationship and may give you a bad reputation in the industry. You don't want to be in a situation like that, do you?
Finding the perfect chemical supplier or your business is certainly a long and tedious process.
But rushing into a partnership will only make things worse.
SmartChem by ROW2 Technologies is the ultimate knowledge-base of global suppliers & chemicals.
It helps you explore market opportunities. Identify suppliers and partner. And save time & resources.
Expand your chemical, agro or pharmaceutical business today. Find a chemical suppliers for your business. Try SmartChem today.
SmartChem powers 800+ companies in the Pharma, agrochemical, and chemicals busi-nesses worldwide. It helps these smart companies uncover new business opportunities, save time, reduce costs and gain competitive advantage.
Wish to learn more about SmartChem? Request a demo today.
Curious about ROW2 Technologies? Learn more about us here.
Found this article useful? Do like and share it with friends on social media.
Have something to add to this? Please share your thoughts with us in the comments section below.